Speech Of Founder and Director Kalpana Gurung at Press Conference of the 3rd Edition of the Turkish Airlines ENGAGE Empowering League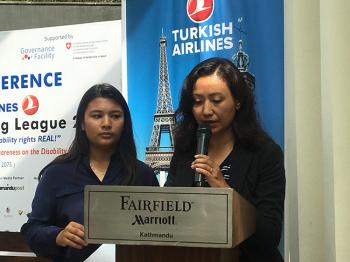 SPEECH KALPANA GURUNG, Executive Director, ENGAGE
PRESS CONFERENCE,
3rd EDITION OF THE Turkish Airlines ENGAGE Empowering LEAGUE 2018,
Wednesday 23RD MAY, 2018 (9 Jestha 2075)
Namaskar and a very good afternoon to Everybody!!
It is a great pleasure to have all of you here today, again a remarkable day to celebrate social inclusion and competitive adaptive sports in Nepal.
At ENGAGE we believe in the power of sport playing to create change at society level, laying the foundations for a more inclusive society together with awareness program at school/college level because of which we would be able to reach out the young generations that might have to play a decisive role if we want to make the country more equal and just, a nation where the most vulnerable, including persons with disabilities, also, have a role to play and of course, the reason why we are here, the Turkish Airlines ENGAGE Empowering League, now at its third edition.
The game is raising and we are trying our best to make sure that Nepal can be a pioneer in this sector.
This year, we are welcoming teams from Nepalgunj, Chitwan and Pokhara, offering more games with incredible semi-finals and the spectacular finals for 3rd and 1st place.
We know that there is still a lot of work to make wheelchair basketball as well as other adaptive sports a level playing field for women. Very encouragingly the number of female teams has increased and this year we welcome the WWBA Female team and wish them all the best.
We have been working very hard to make this League possible. We were very lucky in having partners, mentors and friends from Turkish Airlines (Abdullah) and from the Embassy of Switzerland in Nepal (Manohara & Sabine) and their entire teams who believed in us despite the challenges and made this League happen since the year of 2016. And we are very glad and proud in this journey we have Governance Facility (Caroline) and National Youth Council (Kamala madam) along with us, which definitely helps us to reach out to more wheelchair basketball teams, to reach out the broader society through mass media help to make the society more inclusive.
I would like to thank all the friends from Media whose participation today is very important, I believe together we will be able to reach out the maximum people, community to show case PWDs too have long lists of what they can do/we can, than cannot do/WE CANNOT. We need all of your support to cover the League Games, stories of our para-athletes and bring in front of our society.
I want to thanks all our partners, Civil Bank, Four Season Travel, D-style, Fairfield Marriott, Norvic Hospital, Pashupati Buiscuit, Hetauda Dairy, Civil Bank, The Kathmandu Post and all of our Outreach Partners.
Last but not the least; I would like to thank our incredible team of Volunteers, all the team Captains, players, ENGAGE Sport Coaches and members of the different groups. Together with them, the League is been possible.
A big salute and best of luck to our teams, captains, coaches and the representatives of all fourteen teams involving in the League.
Thank you so much once again to all of you for being with us today and hopeful to see you all in the Opening Ceremony of League on June 2nd.
Namaste!!
Kalpana Gurung