INVOLVE: The power of inclusive sports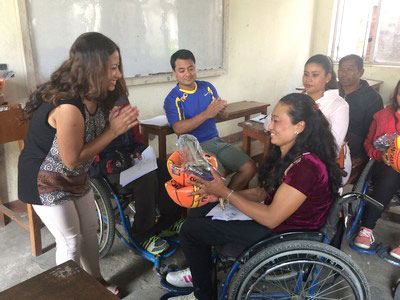 ENGAGE involves youths and young adults living with disabilities through sports to bring transformational changes in their living conditions. In doing this we also value our work with their peers without disabilities.

Sports positively impact the players' lives by translating and incorporating key learning from the court into positive attitudes and behaviors directly benefiting their daily lives. Sports also help to project a different and positive image of disabilities within the broader society, showcasing the talents and skills of youths and young adults living with disabilities, contributing in setting the foundation for a paradigm change in the way society perceive people with disabilities.

AS FOR NOW OUR FOCUS IS ON WHEELCHAIR BASKEBTALL. WE ARE NOW CONCENTRATED ON STRENGHTENING THE SPORT BUT IN FUTURE WE MIGHT CONSIDER ALSO THE OPTIONS TO START NEW SPORTS.
---
OUR "INVOLVE" WORK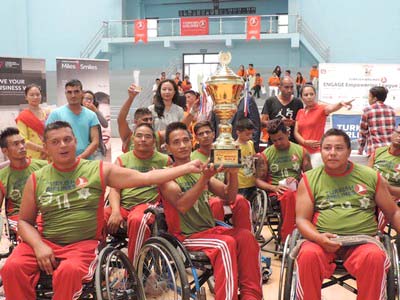 Create sports teams
Connect with youths and young adults who are wheelchair users and work with them to establish local wheelchair basketball teams.
Help the teams in finding a court where to play
Support the teams in forging relationships with local communities
Recruit and train the ENGAGE Sport Coaches
Select, recruit and train promising undergraduate Nepali students with or without disabilities as ENGAGE Sports Coaches
Assign each wheelchair basketball team formed with two ENGAGE Sports Coaches
Deliver, through its ENGAGE Sports Coaches, leadership and other soft skills to the team members
Organize the ENGAGE Empowering league
Organize the Turkish Airlines Wheelchair basketball League for the first time in the country Awareness and Micro Campaigning
Encourage and support the players in organizing micro level campaign actions to advocate for disability rights.
Organize awareness programs at school and college level by holding workshops/presentations and sports demonstrations
Set up informal All Inclusive Empowering Clubs run by students at the local level to advocate about disability rights, inclusion and equality