Dates Of 3rd Edition of the Turkish Airlines ENGAGE Empowering League Announced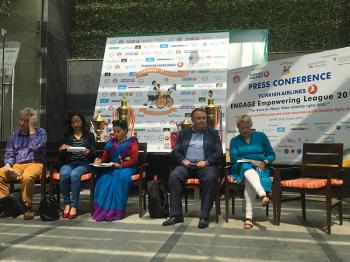 League 2018
"Fair Game for Nepal: Make disability rights REAL!"
Come and watch incredible games and create awareness on the new Disable People Rights Act
23 MAY 2018, Wednesday (9 Jestha 2075)
Kathmandu, 23rd May, 2018
The 3rd edition of the premier wheelchair basketball competition in Nepal, the Turkish Airlines ENGAGE Empowering League, is going to start on June 2nd 2018 and will conclude on 30th of June 2018 at Central Covered Hall, Dasarath Rangasala.
With seven days of games involving 134 players (94 male and 40 female) from five female and nine male teams, including, for the first time teams from outside the Valley (Chitwan, Pokhara, Nepalgunj), each team will play against each other once. The best two teams with the highest scores will play for 1st place final and 3rd and 4th teams in terms of scoring will play for 3rd place.
The Turkish Airlines ENGAGE Empowering League, i.e. The League, a unique initiative organized by ENGAGE, a local NGO, is going to be played under the banner "Fair Game for Nepal: Make Disability rights REAL", directly advocating for the implementation of the new Disability Rights Act. The Act has the potential to be a real "game changer" in terms of new rights and provisions for persons with disabilities.
The League has an important role in raising awareness of disabilities and more in general on issues related to Gender, Equality and Social Inclusion (GESI), contributing to a more just, inclusive development of the country, creating space for action and participation for persons with disabilities, one of the most vulnerable groups.
The League will also be about awareness programs at schools level targeting at least 900 school children and youths at basic and secondary levels. The League will also mobilize around 40 volunteers, all trained on social inclusion and disability rights, and different members of social clubs being supported by ENGAGE. This will help create links between youth with and without disabilities, towards more awareness and understanding on disabilities issues.
While advocating for the new Act, the League will promote not only the physical and mental wellbeing of persons with physical disabilities but also will contribute greatly to enhance the adaptive sports in Nepal.
With the National Youth Council as Co-Convener, Turkish Airlines as Title Sponsor and the strategic support of Governance Facility and Embassy of Switzerland to Nepal and a coalition of nonprofits and corporate houses, the League is a great example of partnerships among different stakeholders to promote social inclusion and disability rights.
Turkish Airlines, which has a great experience on partnership in the sport sector worldwide, is supporting the League through its "Widen your Hearts" campaign, the global corporate social responsibility that Turkish Airlines is promoting throughout the world, showing its steadfast commitment and support towards Nepal.
Dates of Games
2nd and 3rd of June:
The British School, Jhamsikhel
4th and 6th of June:
Army Barracks, Chhauni
9th and 16th of June:
St. Xavier College, Maitighar
30th of June:
Covered Hall, Dasarath Rangalsala Stadium
Dates of Awareness
Awareness programs will be organized in schools throughout the Valley during the entire League and afterwards.
Teams
Female: 5 teams (W.S.A, B.I.A, N.S.C.I.S.A, J.W.S.C. W.W.B.A.) with W.W.B.A. being the latest addition
Male: 9 teams, (S.I.R.C., W.S.A, B.I.A, N.S.C.I.S.A, J.W.S.C., T.A.C., Chitwan, Pokhara, Nepalgunj)
Partners
Besides Turkish Airlines, Governance Facility, Embassy of Switzerland, the League is possible thanks to following partnerships:
Gold Partners: Nabil Bank (1st Position Male and Female will be denominated as Nabil Bank Championship Award), Dlife Style, Four Season Travel and Tours
Silver Partners: Civil Bank, N.S.C.I.S.A.
Official Media Partner: Kathmandu Post
Hospitality Partner: Fairfield by Marriott
Wellbeing Partners: Norvic Hospital, Heutada Dairy Industries, Pashupati Biscuits
Out Reach Partners: MSI & SPN, AYON, The Duke of Edinburgh International Awards, AIESEC, TRIFC, Teach for Nepal, Thames International College